NON-ENGLISH SPEAKING CREDENTIAL APPLICANTS
If you know a non-English speaking person in ministry who is interested in applying for credentials, please contact Teresa Bates at teresab@northwestministry.com We would be happy to explain the requirements and walk you through the application process.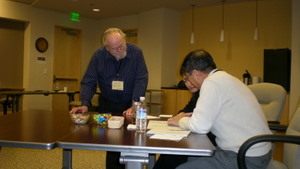 The following situations qualify a non-English speaking credential applicant for a Language Seminar to assist them with the application:
If the individual can speak, read and write English fluently with good comprehension of meaning and purpose, he/she is disqualified from the seminar.
If an individual has taken any class in English without the help of translation from any school or learning institutions and passed this would disqualify them.
If an applicant has successfully completed the requirements for a previous credential through the standard process, they are disqualified to advance their credential through the seminar.
If an individual were born in the United States, this would disqualify them. Please note: If there are circumstances or sufficient reasons why this should not disqualify a person, consider each case by case. There may be some exceptions.
If they have served in the US Armed Forces this would disqualify them.
If any previous divorce and remarriage issue exists this must be cleared through District and General Councils before attending a seminar.
Any criminal investigations, charges or convictions should be addressed prior to attending a seminar.
The candidate must provide proof of Legal Residency, i.e. R-1 Visa, Green Card, Employee Authorization Card, Naturalization Certificate, US Passport. There can be no exceptions here.