I'm Pretty Famous
by Angela Howard | July 27, 2012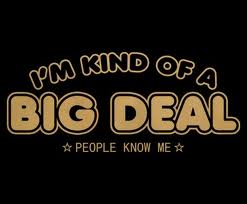 When my son Benjamin was about 4 years old, I overheard him making the following comment to someone at church, "I don't know if you know this but I'm pretty famous around here." According to him, his Papa being the pastor and his dad being on the worship team made him a minor celebrity. Even as a little boy he knew who the leaders were in his church; he knew who he was following, even if he did think a little highly of himself as a result.
I have been thinking a lot about leadership in the last few months as my parents approach a milestone: 40 years serving in the ministry. The Greek definition of ministry is service. My parents demonstrate this to their family and to the people they lead on a daily basis, thinking of others before themselves. As a leader, I am passionate about serving regardless of my role at any given time. Nevertheless, let's be honest and admit that "self" can get in the way when we are mistreated, misunderstood, or even admired for our work.
2 Chronicles 12 tells the story of one such leader.
But when [King] Rehoboam was firmly established and strong, he abandoned the Law of the Lord, and all Israel followed him in his sin. (2 Chronicles 12:1 NLT)
It can be easy to begin our lives as leaders on our knees; desperate for direction, vision, and strength from God. But will we stay there? Or will we do as King Rehoboam and, once we are "established and strong," go our own way? Leading in our own strength leads to sin—sin in our own lives and sin in the lives of those we lead. I tremble at the thought of causing someone to sin. For Rehoboam this abandonment of the Lord resulted in an all-out attack of Israel by Egypt. What will the results be in your life?
Once the King and other leaders realized the cause of the destruction, they humbled themselves before God. They still had to face the consequences of a vicious war, but the Lord's judgment was held back.
It's crucial to be a leader who intentionally chooses to develop character and mature in our walk with God. If you are feeling "pretty famous around here" as my son did and as King Rehoboam did, remember that true leadership is servanthood and be purposeful to grow in the following areas:
Character doesn't happen on accident. Humbling yourself before God and people must be intentional. Get honest with God and He will change your heart. "For whoever exalts himself will be humbled, and whoever humbles himself will be exalted." (Matthew 23:12 NIV)
Say yes to God's discipline when you have been on the wrong path. In addition, don't resist those gentle promptings to live a lifestyle of discipline. When you place yourself in the position to hear from God He will not disappoint! "No discipline seems pleasant at the time, but painful. Later on, however, it produces a harvest of righteousness and peace for those who have been trained by it." (Hebrews 12:11 NIV)
God's word exposes what we are on the inside, just as a mirror reveals how we appear on the outside. When we read the Word, we see ourselves as God sees us and then we are able to examine our hearts and confess our sins. "For the word of God is alive and powerful. It is sharper than the sharpest two-edged sword, cutting between soul and spirit, between joint and marrow. It exposes our innermost thoughts and desires." (Hebrews 4:12 NLT)
Is your aim to get people to follow you? Or are you pointing people toward the Father, toward His vision for the lost?


Angela is an inspirational and educational speaker who teaches the hard truths of God's Word in a fun and relevant way. She is also a writing assistant to Joanna Weaver, author of "Having a Mary Heart in a Martha World". Whatever she is doing, she has a passion to see spiritual growth and an increased sense of purpose in women's lives. Angela and her husband Michael graduated from Northwest University in 1997 and have been married for 17 years and have 2 children. They currently live in Battle Ground, WA.
You can find Angela on her blog at

www.noordinarydays.com