ECFA | Church and Minister Tax Resources


The Northwest Ministry Network has been accredited with the ECFA | Evangelical Council of Financial Accountability since 2007. We have found great value in the additional levels of financial accountability they have provided us. We are very appreciative of their partnership and willingness to make the two resources below – Ministers' Taxes Made Easy and Church Reporting Made Easy – available to our Network ministers and churches.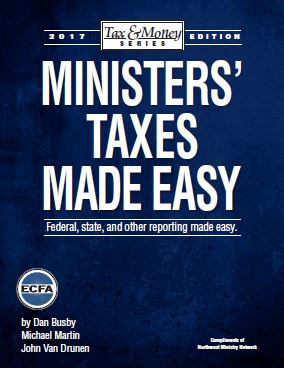 Ministers' Taxes Made Easy
This resource will help church leaders be aware of the filing requirements imposed by the Internal Revenue Service, state, and local taxing authorities. It will also highlight recent developments church leaders should be aware of as they fulfill their
filing responsibilities.
The federal tax laws offer you special treatment for both income taxes and social security taxes. Most congregations will gladly help you maximize the tax advantages. This booklet includes a section on the line-by-line preparation of the Form 1040 and related key forms and schedules. It also highlights a number of recent developments.
Questions? Please contact Samantha Geer at
(425) 888-4800