April 26 - 28, 2021
Couer d'Alene, ID
Currently planning an in-person and virtual event.
EXPERIENCE CONNECTION, CELEBRATE WINS, AND BE INSPIRED
Network Conference is going to look a little different this year...and that's ok!
We are currently planning a hybrid event that will allow our ministers to connect, celebrate and be inspired either in person or virtually.

We will meet in beautiful Coeur d'Alene, ID, and hear from two amazing speakers as well as our Network Leader Don Ross. Although the schedule is simplified to safegaurd the health and well-being of all, we are certain you will enjoy your time and connection whether joining in-person or online.
Registration will open in February.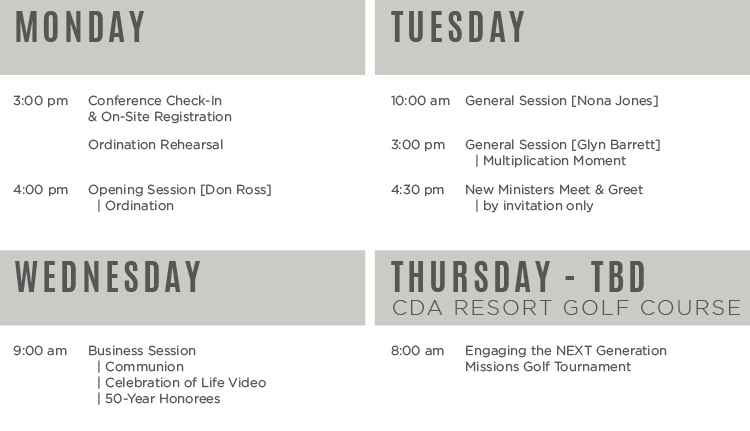 NONA JONES




INNOVATOR | AUTHOR | SPEAKER | SURVIVOR
Nona Jones is a rare combination of preacher, author, business executive, entrepreneur, media personality and worship leader. In her day job she serves as the Head of Global Faith-Based Partnerships at Facebook where she leads the company's work with faith-based organizations around the world. She is the author of Success from the Inside Out, chronicling her unlikely story of success after a childhood filled with physical and sexual abuse. She also hosts Undefeated with Nona Jones, a Facebook Live talk show that reaches almost 40 million people around the world each week.
Since being licensed into the gospel ministry at the age of 17, Nona has preached around the world. As a business executive and entrepreneur, she has been profiled by ESSENCE Magazine as an "Under 40 Woman to Watch" and Florida Trend Magazine as one of Florida's "30-Something All Stars." She has also been featured on TBN, CBN News and The Word Network. She holds a Bachelor in Communications and Master of Business Administration from the University of Florida where she has been recognized as an Outstanding Young Alumnus and she has completed graduate studies at the Harvard Law School Program on Negotiation.
She is a graduate of Leadership Florida and the Presidential Leadership Scholars Program, a joint initiative of President George W. Bush and President Bill Clinton. She also holds memberships in The Links, Incorporated and Alpha Kappa Alpha Sorority, Inc. She and her husband, Pastor Tim, lead Open Door Ministries in Gainesville, FL and are the proud parents of two boys, Timothy, Jr. (9) and Isaac (6), and Goldendoodle girl Shiloh (2).
GLYN BARRETT

Senior Pastor of !Audacious Church
Glyn & his wife Sophia are the Senior Pastors of !Audacious Church, a multi site, multi generational church with 4 campuses in Manchester and Chester, England.
Glyn is also the National Leader of Assemblies of God GB, a 600 Church Strong Pentecostal denomination and Co-chair of Empowered21 for Western Europe.
A powerful and sought-after communicator, Glyn's messages and motivational teaching continue to inspire people of all generations throughout the world.
Glyn and Sophia have two children, Georgia and Jaedon. As far as passions go - Glyn loves his family, is fanatical about Manchester City Football Club and enjoys riding his motorbikes.
To receive discounted hotel rate, please call the number below and mention group name "Northwest Ministry Network - Network Conference" by the cutoff date listed.
NOTE: Please contact the hotel directly for possible closures of listed amenities due to Covid-19 restrictions.
Coeur d'Alene Resort
Address: 115 South 2nd Street, Coeur d'Alene, ID 83814
Phone: 800-688-5253
Rate: $109 North Wing, $129 Park Tower, and $139 Lake Tower (1 or 2 beds)
Located onsite at the Resort Conference Center
Amenities: Indoor pool, hot tub, fitness center. Complementary wireless Internet. Complimentary parking. Special golf rate of $120 for guests. Restaurants on-site. Breakfast: $11 offering at the Dockside Restaurant. Full service spa with 25% off spa visits!
Cutoff Date: April 5, 2021
Best Western Plus
Address: 506 W Appleway, Coeur d'Alene, ID 83814
Phone: 800-251-7829
Rate: $115.00 Queen
Distance to Resort Conference Center: 2.5 miles
Amenities: Complimentary hot breakfast buffet, parking and internet. Indoor heated pool, hot tub, and fitness center.
Cutoff Date: April 6, 2021
Holiday Inn Express & Suites—I-90
Address: 2300 West Seltice Way, Coeur d'Alene, ID 83814
Phone: (208) 667-3100
Rate: $105.00 Standard King, $125 Suite
Distance to Resort Conference Center: 2.2 miles
Amenities: Complimentary Express Start Breakfast, Free high speed Internet access. 24-hour Indoor pool & hot tub, 24-hour fitness center. Cookies and milk in the evenings!
Cutoff Date: April 2, 2021
La Quinta by Wyndham
Address: 333 W Ironwood Dr, Coeur d'Alene, ID 83814
Phone: (208) 665-9000
Rate: $96.00 1 King Executive w/sleeper or 2 Queen beds
Distance to Resort Conference Center: 2.1 miles
Amenities: Complimentary Bright Side Breakfast. We offer an indoor pool, hot tub, and fitness center, free WiFi, mini-refrigerator, microwave, Keurig coffee maker.
Cutoff Date: April 2, 2021
Staybridge Suites – New Hotel This Year
Address: 1347 W Riverstone Dr, Coeur d'Alene, ID 83814
Phone: (208) 676-0222
Rate: $119.00 Studio Suite with 1 King and sofa bed
Distance to Resort Conference Center: 1.9 miles
Amenities: Complimentary breakfast and evening happy hour. We offer an indoor pool, outdoor hot tub, and fitness center. Free WiFi, and fully equipped kitchen.
Cutoff Date: April 2, 2021
Quality Inn & Suites
Address: 280 West Appleway Ave, Coeur d'Alene, ID 83814
Phone: (208) 765-5500
Rate: $89.00
Distance to Resort Conference Center: 2.4 miles
Amenities: Free hot breakfast, WiFi and parking. Indoor pool and fitness center.
Cutoff Date: April 2, 2021